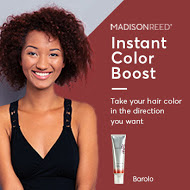 **This post contains affiliate links and I will be compensated if you make a purchase after clicking through my links.
If you know me in real life, you know that I LOVE Madison Reed. The hair color is amazing, gentle, and gives me a great red color.  I also love their hair care products! Their shampoo and conditioner are great for making colors last and stay bright.
Imagine my excitement when I learned that Madison Reed just launched their new STYLE and TAME products! STYLE is a lightweight styling cream that provides frizz-fighting hold, while conditioning and protecting hair. TAME is a lightweight smoothing emulsion that makes hair more manageable and adds shine before and after styling.
Here are just a few reasons I can't wait to try out the new Style and Tame set!
Lightweight, frizz-free hold with STYLE
Smooth and shine with TAME
Nourishes hair with natural hydrating oils
Create both smooth waves and sleek straight styles
Check out the Style and Tame set here! I'm ordering a set this weekend!